Finding the best camping gifts for the outdoor lovers in your life isn't easy. The outdoor industry is simply massive, and there are thousands of product niches, from kayaking to climbing to camping to mountain biking to fishing.
This can make deciding on your gift difficult, especially if you aren't already in-the-know. This is because outdoor gifts are often technical and specific to certain activities. If you aren't plugged into the outdoor scene, you'll probably find it difficult to know what gifts are surefire purchases and what gifts you're better off leaving on the digital shelves.
Luckily, that's what the team here at Adventure Daily is here for! Our experts (myself included) are always in tune with the latest and greatest in outdoor technology, so we've gathered a collection of 40 excellent camping gifts in 2021, guaranteed to satisfy any outdoor enthusiast. Let's dive in!
This pop-up tent model from Ayamaya (stylized aymaya) is a pristine combination of durability, simplicity, and space. It offers everything you could ask for in a pop-up tent, all at a reasonable price, with a vestibule for gear storage, twin entryways, and hooded vents for breathability. It's durable enough for traditional camping but still lightweight and offers the fast setup and takedown needed for backyard outings. For more options, see our full list of the Best Pop-Up Tents.
In the era of COVID-19, handy gaiters work well as all-purpose facemasks that remain breathable and easy to clean and remove.1 They also perform great in the wilderness, whether as bandanas, rags, dish towels, or something else. This gaiter comes with a map of Yosemite National Park printed on it and is built from a moisture-wicking, quick-drying microfiber that is both cool and comfortable. You can't go wrong here, and Grand Canyon and Grand Teton gaiters are available too, among other options.
For outdoor gun enthusiasts, Nexbelt offers everything you need in a belt. Their Titan Coyote EDC is a top-of-the-market belt that provides sturdy support for carrying a firearm, coupled with a fine-tuned ratchet buckle that allows the wearer to micro-adjust their fit. The dusty "coyote" strap adds to the appeal for an outdoor wearer. A variety of Nexbelts are available, from hunting belts to dress belts to golf belts, but particularly if your gift recipient is a hunter or gun enthusiast, this belt, which is highly rated by gun owners nationwide, is a great buy.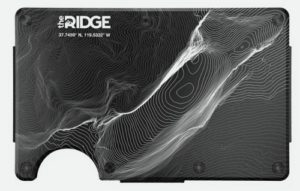 This innovative little wallet fits up to 12 cards and can expand and contract to fit whatever size you need, thanks to an elastic band. A built-in money clip holds extra cash, and the topographic design features a map of the summit of Half Dome, in Yosemite National Park. It also blocks RFID-skimming devices and weighs a mere two ounces.2 The aluminum build ensures that this is a rugged, long-lasting wallet, as well.
Candle lovers will appreciate this 100% vegan and eco-friendly candle, scented with notes of desert lavender, sage, and dried herbs. It features a USA-grown balsa wood wick that burns for over 80 hours and is poured in a durable and recyclable metal container, with a Zion National Park vintage design on the exterior. If your gift recipient loves the outdoors and loves the smell of environmentally friendly candles, this is a perfect hybrid gift.
For knife lovers, the Hori Hori is a surefire buy. This "Ultimate Tool" is designed as a hybrid spade, blade, bottle opener, twine cutter, and more in an all-in-one streamlined build. The stainless steel knife has one serrated edge, one straight edge, the other tools all wrapped up with a hardwood walnut handle and copper accents. One of the unique highlights is the hash marks on the blade, which can be used to measure depth or length.
This waterproof BlueTooth speaker is as tough as they come. It can tackle everything from backyard barbecues to days at the beach to car camping trips with ease, and rocks over 40 hours of battery life on a single charge! It sports a USB slot to charge your phone while playing, a waterproof interior compartment for storage of small EDC items, and a rugged Pelican case that's 100% crush-proof. Best of all, you can pair up to six of these speakers together for an incredible surround sound experience. Six different colors are available.
Everyone loves notebooks when they're out camping, whether for journaling, itemizing food and supplies, sketching surroundings, or something else. I recently received this triple pack of mini-notebooks as a gift, and I love them. This three-pack of 3.5" x 5.5" books has sublime cover art from the U.S. National Parks, and each notebook holds 48 pages of lined paper.
The Nemo Wagontop is a striking tent from a mainstay brand. I've been using Nemo gear for over a decade, and their stuff is bombproof. This tent sports a unique pole structure that offers a wealth of space, with and room to stand up and stretch thanks to almost perfectly vertical walls and built-in overhangs. It has panoramic windows and large doors, with all the vestibule space you need to protect pets, gear, apparel, and more. All told, it's a comfortable, affordable 8-person tent that will last for seasons to come. For more options, see our full list of the Best 8-Person Tents.
Eagles Nest Outfitters (ENO) hammocks are probably the most reliable and customizable hammocks on the market, and make excellent gifts for outdoor lovers of all stripes. They're comfortable but lightweight and offer fast setup and takedown, so they're a nice option for picnics or weekend hangouts but are still packable and technical enough to take on serious camping trips. Outdoorsy folks are sure to love an ENO. You can't go wrong here.
The Weber is a bulky grill, but like the DB2 speaker above, it's a surefire choice for car camping, backyard barbecues, beach days, and other events where packability and weight aren't concerns. The porcelain-enameled cast-iron cooking grates, married to a cast aluminum lid and body, make this a bombproof grill that can weather rugged outdoor climes with ease. A built-in lid thermometer, folding side tables, and removable catch pan add to the functionality. For more options, see our full list of the Best Camping Grills.
The North Face is known worldwide for standout outdoor apparel, but they also make great duffel bags. The Base Camp is an excellent hybrid bag, perfect for traveling or, well… taking gear to your base camp (as the name implies). The bag comes with lateral compression straps to minimize space as much as possible, and the built-in shoulder straps allow you to wear it like a backpack when on the move. The Base Camp Duffel is also available in a variety of sizes and prices, so it's easy to find one that suits your gift recipient's needs best.
The Yeti Tundra 65 is simply the pinnacle of camping coolers. This roomy, stout cooler features three inches of PermaFrost Insulation, with an extra thick FatWall design that is also bear-resistant. This is one of the most durable camping coolers in existence. I've taken my Yeti Tundra from Mexican beaches to the Canadian Rockies and it's held up without any damage. The latches are stout and reliable, and the cooler also comes with a raised dry goods basket (removable). There's no other way to put it. This is the best camping cooler on the market and a standout camping gift idea. For more options, see our full list of the Best Coolers for Camping.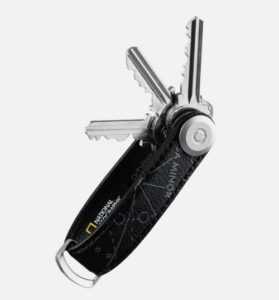 This leather key organizer is a sleek and inventive way to organize house keys, car keys, and fobs, all wrapped up with a classic National Geographic styling. These organizers transform your keys into a neat and smooth stack, with a topographic map printed on the sides of each water-resistant organizer. Constructed with Desserto® Cactus Leather, the organizers are eco-friendly, too. Each can fit up to seven keys, with fobs and car keys storable on an included D-ring. A great gift for the outdoor enthusiast who is always carrying around a jangly mess of keys.
BAÏST gloves cover everything from cycling to mountain biking to snowboarding, with a versatile and rugged outdoor glove lineup. The BAÏST Classic is the brand's trademark snow glove, with tough goat leather and Cordura outer layering that is as stout as any glove outer on the market, even ones that are much more expensive. BAÏST gloves can fit every niche from mountaineering to motorcycling (and I've used their gloves on both styles of expedition), so their website is a haven for anyone looking for outdoor-related gloves.
This blanket-poncho hybrid from Wise Owl Outfitters is a stellar buy for anyone who might be spending cool nights outside by the fire this fall. The blanket is 6.5' x 4.5' when fully laid out, but weighs less than two pounds, packing down to smaller than a water bottle, so it's even a viable option for mellow backpacking trips. Quick snap clasps allow you to wear it as a cape or poncho, adding to its functionality, and the 20D ripstop nylon exterior features reinforced stitching and water repellency. In other words, this blanket can hold up well in just about any conditions. For more options, see our full list of the Best Camping Blankets.
For the yoga-inclined outdoorsman (or anyone who loves a morning stretch), this outdoor yoga mat is a great purchase. The mat is lightweight and packable, so it's easy to carry around in a car or backpack. Yoga mats also work well as tarps to lay out and organize gear, clothing, or foodstuff when you're camping, so they really are a versatile item that will help out any outdoor enthusiast, even if they aren't a regular yoga practitioner.
Double sleeping bags are something of an oddity. Not every camper will want one, and if you're sleeping alone they won't keep you as warm as a properly sized single-person bag, but they're a great gift for couples, or for anyone who likes sleeping with their dog when out camping. The Sleepingo is our top pick for an affordable double sleeping bag in 2021. It's a cozy, comfortable, and flexible double sleeping bag at a reasonable price. For more options, see our full list of the Best Double Sleeping Bags.
A PFD (personal flotation device) is an essential piece of gear for outdoorsy folk who are interested in paddleboarding, kayaking, canoeing, or any other sport out on the water. The E-Ronny is a great option for paddlers of all stripes, with a refined, lightweight build that makes it easy to move around in, restricting movement very little. There are several storage pockets, and the E-Ronny is built with recyclable PE foam, so it's eco-friendly, as well. This PFD isn't designed for whitewater (rapids), but it's an excellent present for anyone interested in flatwater kayaking or canoeing, packrafting, paddleboarding, or fishing.
Camping showers vary widely, depending on intended use, price, and build. You can purchase everything from battery-powered, electrically heated showers fit for a king down to lightweight, minimalist gravity-fed showers, heated via sunlight. The Nemo Helio is perhaps the best of both worlds, with a low price and compact, portable build that won't take up too much space in a tent or vehicle. It features a foot pump to pressurize the 2.9-gallon tank and a 7-foot neoprene hose that can easily be held overhead for a traditional showering experience. It also heats up quite well via solar power (i.e. sunlight). For more options, see our full list of the Best Camping Showers.
This microscopic lighter is one of my favorite outdoor gifts in 2021, but no one really knows about it. It has largely flown under the radar but is sure to turn a few heads at parties and on camping trips. Specifically designed to be flipped upside down, this mini lighter keeps fingers out of the flame with a circular grip and angled flame port. In other words, no more burned digits when trying to light candles or campfires! The Dissim is refillable, features an adjustable flame level, and takes standard butane fuel.
Roald Amundsen, the Norwegian who led the first successful expedition to the South Pole in 1911, is arguably the most famous explorer of all time.3 Amundsen, the brand launched by his great-grandson Jørgen, carries on the legacy of Roald's iconic adventure spirit. This woven belt is a surefire hit with any outdoor lover, with a fascinating pattern and a canvas pouch for easy storage. Amundsen branded rivets and leather accents lift this unique belt, which is made in Europe, a touch above anything else on the market.
Roller skates aren't exactly what most people think of when they think of the best camping gift ideas, but the fact remains that many national and state parks feature paved roads, perfect for skating. Especially if someone is car camping or living out of an RV, roller skates offer an exciting daytime activity, one that any outdoor lover is sure to enjoy. These Moxi brand skates feature a classic vintage design, trendy enough for the rink and high-quality enough for the outdoors.
These are one of the few gender-specific gifts on our list, but these boxers are a standout offering for any outdoorsman. Slim, snug, and breathable, with a slick grizzly bear design to top it all off, this is a stellar pair of underwear for outdoorsmen who are more at home in a tent than in a bedroom. They're sure to be appreciated. There are also many other designs to choose from if you're after something different.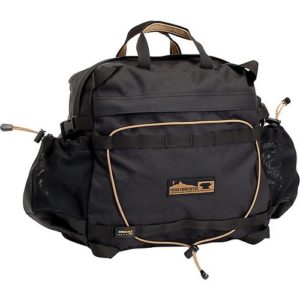 If the outdoor enthusiast you're shopping for is a photographer, chances are they'll need something to protect their camera equipment when out on the trail. This camera bag from Mountainsmith is as stout as camera bags get, with a 610D Cordura build coupled with 210D nylon lining and EVA & high-density PE foam, guaranteed to keep costly electronics safe. It sports detachable shoulder straps, a detachable interior accessories bag, a zippered front panel pocket, a removable rain cover, and a water-resistant exterior, among other features.
VSSL's adventure kits contain everything from first aid essentials to fishing tackle to fire starters, with over 70 gear items in a 1.3-pound package! Meanwhile, the container is actually an LED flashlight with a compass in the lid. This kit has everything an outdoor lover needs in a tiny, tiny package, and is sure to be a welcome surprise, with a large variety of useful gear.
This fascinating little toolset adapts to fit nut slots from 7 to 19mm (metric) and 1/4" to 3/4" (standard), thanks to 54 Chromoly steel spring pins that slid in and out to accommodate various slot sizes. Handymen everywhere are sure to love this set for DIY projects at home, but it's compact and lightweight enough to come in handy in camping applications or in a car toolbox, as well.
BioLite has revolutionized the outdoor cooking space recently, and the FirePit+ is a perfect example. This setup allows you to have the warmth, crackle, smell, and experience of a traditional wood campfire, without all the obnoxious smoke. It features a grill to cook your food and even lets you control the size of the flames, either manually or via BlueTooth. A 12,800 mAh battery provides for extensive burn times (up to 30 continuous hours!) and the stove can take both firewood or charcoal.
Every experienced camper knows how much a compact and portable camp stool is worth. Simply put, these things are invaluable, and the Hillsound is one of the best on the market at the moment. The brand's unique "Phantomlock" technology locks the legs in place when spread out so you won't fall over, and weighs only 12 ounces. The frame is built from an aerospace-grade 7001 aluminum alloy, supporting up to 240 pounds. With a two-year warranty, you can rest easy and know that your stool will be around to last, one way or another.
Every outdoor enthusiast needs to have a quick emergency kit to whip out if things go south, and a critical part of these kits is an emergency blanket. These utterly massive emergency blankets (7×5 feet) are much larger than standard emergency blankets, so can be used to make an A-frame shelter, sleeping bag, bivy sack, and more.
A cookbook might not seem like the first gift you think of when you think of the best camping gifts, but as all campers know… good camping meals are important! This guidebook contains over 100 recipes and ideas for campouts, picnics, barbecues, and other outdoor meals, with feedback from Country Living magazine editors. It doesn't just contain recipes, either, but also features packing tips, cooking tips, checklists, and other useful accessory features.
This is a one-of-a-kind gift that is sure to surprise, since you aren't giving a product, but an experience. 57Hours is an outdoor booking platform that offers a wealth of astounding outdoor adventure experiences, both domestic and international, at stellar prices. Everything from hiking the Inca Trail to climbing Kilimanjaro to scrambling via Ferrata in Telluride is available on 57Hours.
Out of all the camping gifts an outdoor lover could want, a reliable power station is perhaps the most critical in 2021, with many outdoor travelers, particularly vanlifers, needing to stay connected even when camping. The TITAN 225 from Raptic is one of the most reliable battery generators on the market, with 225 watt-hours, enough to charge most smartphones up to 20 times, laptops 5 times, GoPros over 35 times… you get the idea! The power bank can be recharged with either the included AC wall adapter, USB-C cable, or solar panel, so it's quite versatile, too.
A camping lantern is a must-have gift for campers, serving as the perfect hub for your party to gather around, illumination for tents or dinner tables, and more. This 500-lumen lantern from BioLite, the makers of the portable grill mentioned above, is one of the best available. It runs for approximately five hours on the highest setting but can last for up to 200 hours on its lowest setting, with a 6400 mAh rechargeable battery. It also offers a variety of special lighting modes, quickly accessible via a shake of the lantern, including Cool & Warm White (Dimmable), Candle Flicker, Single Color, Multicolor, and Cycling Color.
Knives or multitools are a critical piece of gear for every outdoor enthusiast. The Leatherman Free K4 is one of the best options in 2021, with a burly knife blade (3.3"), and a plethora of additional tools, including a screwdriver, scissors, and a bottle opener, with all the tools one-hand operable and lockable to reduce injury. In addition, the magnetic open and close functionality provides easy access in a pinch.
Outdoor gear is often quite bulky, so a ruggedized cargo basket for the roof of an outdoor lover's car is an amazing gift that is sure to be appreciated for years to come. This steel basket adds over 12 feet of additional storage space, perfect for coolers, tents, chairs, and more, with up to 150 pounds of weight capacity. Its broad compatibility range fits most factory bar systems, so you can be certain there won't be a compatibility issue so long as your friend or family member has a standard roof rack.
These polyester straps offer 12 feet of tie-down capability and are easy to throw up on the roof of a car to strap down surfboards, kayaks, a canoe, paddles, a bouldering crash pad, or anything else. I've personally used them for securing motorbikes in the back of a truck, too. In particular, for the outdoor enthusiast who doesn't have a dedicated roof rack, straps like these can go a long way towards making their outdoor hobbies more accessible via car.
This bespoke box isn't just one gift, it's several, all custom-selected to appeal to nature-lovers of all stripes. It includes a full tang gut hook knife with multiple capabilities, water-resistant field box, bushcraft manual, pocket saw, and paracord bracelet. Gifts like these are always a reliable choice, since even if your gift recipient isn't a huge fan of the paracord bracelet, for example, they may really appreciate the bushcraft manual or pocket saw. It's also available in four different colors.
This 1.4-pound mini tomahawk is sure to impress any wilderness fanatic. It's great for clearing brush, splitting kindling, or even target throwing. It's well-weighted, perfectly balanced, and features a stainless steel blade and handle built from glass-reinforced nylon. On the opposing end, a spike helps with a variety of piercing tasks. This is a practical tool that doubles as a fun throwing axe. In other words, it's the perfect camping gift.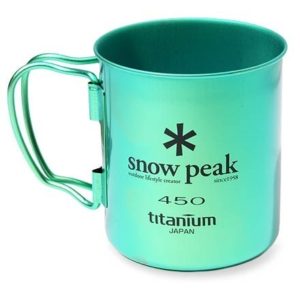 There's nothing like sipping hot tea, coffee, or hot chocolate around the fire at the end (or beginning) of a big day in the wilderness. The best camping mugs are a mainstay in all camping backpacks, and Snow Peak mugs are as good as they come. These rugged titanium mugs are only 2.4 ounces but can hold up to 14 fluid ounces of beverage (or soup, oatmeal, or any other liquid meal, for that matter). The bail-style handles allow for the user to stow the mug in his or her pack when not in use, as well.
When you're struggling to come up with gift ideas for the camping lover in your life, this list will help you find the perfect gift. These 40 great camping gifts are useful, practical, and sure to make any outdoors enthusiast's day, and they're ideal for any holiday or special occasion.
Article Sources
Adventure Daily uses only high-quality sources, including peer-reviewed studies, to support the facts within our articles. Read our editorial process to learn more about how we fact-check and keep our content accurate, reliable, and trustworthy.
Greenwald M. How to wear a neck gaiter to protect against Covid. Nbcnews.com. Published August 5, 2021. Accessed October 14, 2021.
Howard B. What Is An RFID-Blocking Wallet And Should I Use One? Tracsoft.com. Published June 15, 2020. Accessed October 14, 2021.
History.com Editors. Roald Amundsen becomes first explorer to reach the South Pole. History.com. Published November 24, 2009. Updated December 10, 2020. Accessed October 14, 2021.