Are you looking for the perfect 8 person tent for your next camping trip? Whether you've got a large family, you want extra space for a glamping-like experience, or you're off on a major adventure and need to take lots of gear, we have you covered.
You need a tent that won't collapse in a bit of wind, won't let in the rain, and will last for trip after trip. If you're camping in the warmer months, you'll also want a good breathable tent that won't get too hot and stuffy with several people inside. Our camping expert advisor picked out the best 8 person tents so you can choose the perfect option for you and your needs. Their top pick is the Nemo Wagontop 8 Person Tent, thanks to its spacious design, quick setup, and ample ventilation.
As well as choosing a great 8 person tent, you'll also want to check out our list of the best double sleeping bags to keep you (and family members) warm and snug at night.
Our Camping Expert's Top 5 Eight Person Tents
Here are the top picks from our camping expert. Compare the ratings and features of different models.
*Ratings are on a scale of 1 to 5 and based on reviews, feedback, and opinions of actual customers
Who Should Buy an 8 Person Tent
Families with younger children who are camping locally, or heading on a camping trip together – An 8 person tent gives you plenty of room for a couple of adults plus 2 – 4 kids, along with all the gear you'll need for camping with kids. If you have teens, you may want to opt for a tent with a divider to give them more privacy.
Couples or small groups looking for a glamping experience – If you're planning to take air mattresses, chairs, tables, power hookups, or even a heater or portable air-con system, then you'll need a fairly roomy tent to accommodate it all.
Serious expedition campers who want to set up a base camp – The high-end tents on this list can withstand snow and high winds. If there are only 2 or 3 people on the expedition, they'll also give you enough space for all your gear. If you're heading somewhere well off the beaten track and planning to camp for a week or more, you need a quality 8 person tent.
Who Should Not Buy an 8 Person Tent
Families who want a quick and compact backyard option – A smaller, simple popup tent will likely suit you better instead, especially if you have limited space.
Backpackers – An 8 person tent is heavy to carry and, while you may be able to split the poles between several people, it's going to be tricky to transport it around. You'll want to stick with multiple smaller tents instead.
Research Tips from a Camping Expert
As a camping expert, I often get asked about what really matters when choosing an 8-person tent or another large tent. It's a big purchase, so be sure to do your research before buying. You'll also want to think through the key features you need and ask camping friends or family for their recommendations, too.
Don't worry too much about how long the set-up/takedown will be – You're unlikely to be pitching an 8 person tent for a single night trip. If you're going camping for several days, or even a week or more, then it doesn't really matter if it takes an hour to get your tent pitched.
Think about durability – An 8-person tent can be a considerable investment, and you want something that will last for years to come. You may also want to check out whether replacement parts (e.g., poles) are easily available from the manufacturer.
Check the tent's weather resistance – If you're only going camping in summer, this may not matter – but if you're likely to face very wet, rainy, or even snowy weather, you want to be sure your tent will keep you warm and sheltered, without becoming damaged.
Make sure the tent is big enough – While 8 people can squeeze into an 8-person tent, that's not going to leave room for much else! Even if there are 5 or 6 of you, make sure the tent will actually sleep you all comfortably, with your gear. You might want to opt for a model with an integrated porch area so you have somewhere to leave bags and boots.
If you're going camping in warm weather, make sure the tent is breathable – It can get pretty hot and stuffy with several people under canvas.
How Much Do They Cost?
Between $130 and $5,000
8 person tents can cost as little as $130 and as much as $5,000 or more. A high-end expedition quality tent is obviously going to be more expensive than a tent that you plan to use for backyard camping and local campsites. Tents at the lowest end of that range aren't likely to be so durable, but will generally be simpler and easier to set up.
Our Methodology: Why Trust Adventure Daily
As a camping expert and adventure journalist, I chose options to fit the three main demographics looking for 8 person tents: families with children, people who want a more luxurious glamping experience, and serious expeditions looking for a base camp. These options hit all those targets, and they're reliable tents that all have good durability and water resistance, along with offering plenty of space inside. – Owen Clarke
The Best 8 Person Tents: Full Reviews
The Nemo Wagontop 8 Person Tent is ideal if you want to go glamping or if you have a lot of gear. With room to stand up inside, easy doors and windows for ventilation, and fast setup, it's a great option for family camping trips. It even has built-in internal pockets to keep your belongings off the ground.
It's designed to be easy to pitch, with single-walled construction and simple setup instructions, making it perfect for first-time or inexperienced campers. It's suitable for most weather conditions, as you can easily open the windows from the inside for better airflow if it's hot, and it handles rain well.
Pros
Stands up really well to rain, despite not having an external rain fly
Has plenty of space and doesn't feel cramped
Give you space to stand upright inside
Windows can be opened and closed from the inside
Includes a large vestibule space for keeping gear, bags, and shoes
Cons
Only 4 guy lines provided, though the tent has 6 guy line points
Not as durable as more expensive options.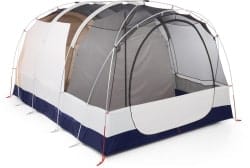 REI Co-op Kingdom 8 Tent
Want a family tent that won't break the bank? Try the REI Co-op Kingdom 8 Tent, with easy setup, great ventilation, and the ability to withstand high winds.
For a fantastic and affordable tent, go for the REI Co-op Kingdom 8 Tent. It's designed to be easy to set up with pole clips, plus color coding on the tent, fly, and poles to help you get everything connected fast. The mesh paneling and doors give you all the ventilation you need – plus great views.
If you want a little extra privacy, there's a center divider wall that you can use to split the tent into 2 rooms of adjustable size. It's perfect if parents want to sleep separately from kids, or if you want to split your tent into a living area plus a sleeping area. It's sturdy, too, and will stand up to high winds or rain.
Pros
Easy to set up and take down – two people can put it up in about 10 minutes
Handles wind, rain, and hail without problems
Has the option of an add-on garage for your car (or for storage)
Enough space to stand even if you're as tall as 6' 4"
Cons
Once rainfly is installed, you won't have windows apart from the doors
May not stay standing in heavy (30+ mph winds)
Coleman 8 Person Instant Tent
Need a tent that's super-fast to set up? The Coleman 8 Person Instant Tent is perfect for you, with its pre-attached poles that let you get it pitched in just one minute.
The Coleman 8 Person Instant Tent is a great option if you hate the process of setting up a tent. The poles are pre-attached, so pitching your tent takes just moments. Simply follow the instructions and you'll have it up in no time.
There's plenty of space inside for mattresses or even furniture like a table and chairs. The room divider lets you split the tent in two so you have more privacy.
Pros
Incredibly quick and easy to set up and take down
Waterproof – though you might want a rain tarp for heavy rain
Includes stakes and guy lines (some reviewers recommend buying others)
Cons
The poles and joints of the tent can break easily
Build is less durable than other options
Needs both hands to unzip the door and get into the tent
Marmot Lair 8P
If you're on a serious expedition, you'll want a dome tent that can withstand anything. The Marmot Lair 8P is a great choice that won't break the bank.
The Marmot Lair 8P is well supplied with external guy points, letting you get the tent pitched so that it can withstand heavy wind and snow. There are also internal guy points so you can set up drying racks or hang equipment inside the tent. The ventilation is good, with multiple windows that can be rolled up.
You'll get a field repair kit with the tent, letting you easily fix issues without needing to abandon your trip. The two D-shaped doors make it easy to get yourself (and your stuff) in and out. There's also a poled vestibule to store your gear in.
Pros
Budget-friendly base camp tent for serious expedition campers
Strong dome-shaped tent to withstand heavy winds and even snow
Suitable for use in all 4 seasons, including during mountain storms
Bright, reflective orange makes it easy to spot
Cons
Removable floor may allow water in during very wet conditions
Designed to hold heat in; not ideal for use in very warm conditions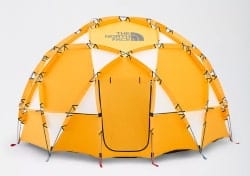 North Face 2-Meter Dome
If you want to splash out on a truly impressive piece of kit, go with the North Face 2- Meter Dome tent. This professional-quality tent is perfect for extreme conditions.
The North Face 2-Meter Dome is designed for athletes and explorers. If you're going on a major expedition, this is the tent you need. It's easy to put up, with color-coded poles and sleeves, and it's incredibly secure and weatherproof.
The tent will withstand very strong winds and keep you comfortable during extremes of both cold and heat. It has 2 external windows and a chimney vent for ventilation, plus two doors for ease of access.
Pros
Stands up to very heavy winds and extreme climates (like heavy snow)
Includes interior pockets for storage
Plenty of space inside for your team (and all your gear)
Includes a lifetime guarantee
Cons
Expensive, so best suited for experienced and committed mountaineers or other serious expeditions
Quite bulky and heavy; not well suited for short trips in mild conditions
Frequently Asked Questions
What size tent do I need for 8 people?
Although 8 people can fit into an 8 person tent, you'll likely want to opt for a larger tent for more space and comfort. A 12 person tent would likely be a better option. Alternatively, you might want to split the group across two 6 person tents. Keep in mind that, the longer you're camping for, the more important it's going to be to have plenty of space – for all your gear and also for rainy or cold days when you want to hang out in the tent.
Can a tent be too big?
It depends! If you're traveling to a campsite by car, pitching your tent, staying for a few days, then taking down your tent at the end of your trip, there's probably no such thing as "too big." But if you're going to be hiking from campsite to campsite, you'll definitely want a smaller tent that's easy to transport and quick to pitch.
1
Keep in mind that the bigger the tent, the more it'll cost, too.
Do campsites charge more for bigger tents?
Most campsites charge per pitch or per person, so unless your 8 person tent is so enormous that it takes up more than one pitch, you're unlikely to need to pay extra. If there's a specific campsite you're planning to visit a lot, though, it's worth calling them to check.
What is the difference between a cabin tent and a dome tent?
Cabin tents are (roughly) rectangular, which gives you plenty of space inside – particularly when it comes to headroom – but means high winds can be a problem. Dome tents are great at withstanding very high winds and rain, though they're not so roomy inside. Essentially, cabin tents are perfect for casual camping and glamping, whereas dome tents are ideal for expeditions in potentially wet and windy conditions.
2
Article Sources
Adventure Daily uses only high-quality sources, including peer-reviewed studies, to support the facts within our articles. Read our editorial process to learn more about how we fact-check and keep our content accurate, reliable, and trustworthy.
REI. How to Choose a Backpacking Tent. Rei.com. Accessed October 2, 2021.
Rabinowitz B. How to Choose a Tent. Backcountry.com. Accessed October 2, 2021.