Do you want to try camping with your kids … without having to pitch your tent at a noisy campsite?
Maybe you're facing COVID-19 travel restrictions, or you simply want to have a peaceful family time. Backyard camping can be a whole lot of fun; it lets you spend quality time together as a family without going anywhere.1 It's a great option with little kids, too, as you can easily head back inside to their cozy beds if it all becomes too much. Plus, you'll have your own indoor bathroom a few steps away.
Here are some fun (yet easy) backyard camping ideas your family will love:
1. Sleep in an 8-Person Tent
One of the best things about camping as a family (from your kids' point of view!) is all being together in one big tent. Whether it's telling ghost stories by candlelight or simply enjoying being together, staying in the same tent can be a lovely memory for everyone. If you can, go for an 8 person tent, even if you only have a couple of kids. The more space you each have to stretch out, the comfier you'll be. – Just make sure you've packed plenty of blankets to stay warm.2
2. Or … Create Your Own Tents
If you have slightly older kids, how about creating your own tents? (If the tents collapse in the middle of the night, it's no big deal – you can just go back into your house.) Use a big canvas sheet and drape it over a clothesline or hang it over a frame made from sticks. Your kids will love getting to design their very own tent.
3. Have a BBQ (and Make S'mores)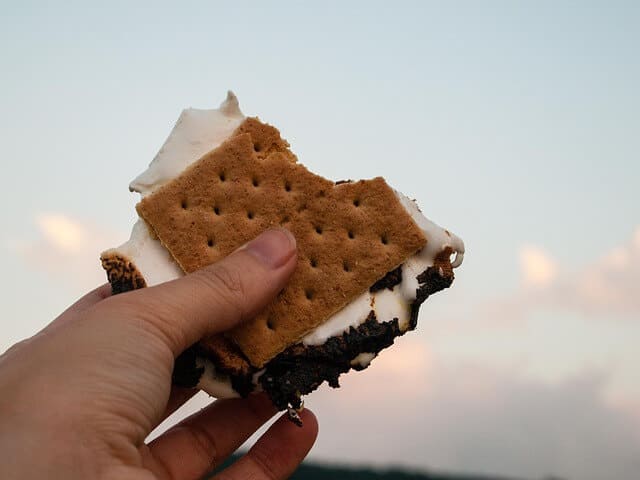 Image courtesy of Pixabay
You can't beat a BBQ when camping – so stock up on hot dogs and burgers! Make sure you have your marshmallows ready for s'mores, too. If you want to go beyond the usual graham cracker, marshmallow, and chocolate combination, try some of these unusual s'mores recipes instead.
4. Put Up String Lights
String lights are a fun and easy way to light up your garden and make it just a little bit magical. You could drape them between trees or even around garden chairs – or you could put up poles at the four corners of your camping area, and string the lights between them. Many types of string lights can be used outside, though do check before putting yours up in inclement weather.
5. Have a Scavenger Hunt
Even in your own backyard, a scavenger hunt can be great fun. Make a list of things for your kids to find: pebbles, leaves, twigs, even bugs. You might want to give prizes for the "most unusual leaf" or "most colorful bug". You could also use the items for craft, making a picture out of leaves and twigs.
6. Play Lawn Games or Fairground Games
Image courtesy of Pixabay
If you don't have any outdoor games, you can easily make some. How about creating a simple ring-toss game using old drinks bottles? Or creating a "hook a duck" fairground game with your kids' paddling pool? You could give your kids a supply of tokens to "spend" on the games and give out candy or small toys as prizes.
7. Watch a Movie
If you have a projector, hook up a plain white sheet in your garden for an unforgettable outdoor movie experience. Get comfy with pillows and blankets, then enjoy some family favorites under the stars – or pick a camp-themed movie like The Parent Trap.
8. Use Glow Sticks to Make Lanterns
Want some pretty lanterns without the risk of anyone getting burned? Use glass (or clear plastic) jars and pop a glow stick or two into each one then fill with water. They'll look great and you can safely leave them "on" all night long.
9. Make a Fire Pit from a Terra Cotta Pot
Many campsites offer fire pits to hire – and your backyard camp can have a firepit too! Use a terra cotta plant pot and line it with foil, then follow the instructions here.
10. Create Your Own Game of Tic Tac Toe
Paint ten pebbles to create your own tic tac toe pieces (you'll need five with Os and five with Xs). Or, for a different spin on the game, paint garden creatures, like ladybugs or butterflies, in place of the Os and Xs. Use a big flat rock, a plank of wood, or an old paving slab to draw lines for the "board" – or use sticks! Your kids will have fun both creating the playing pieces and playing the game.
11. Make a Camp Flag
Use felt triangles or cut pieces of old fabric to create an impressive flag for your camp. You might even want to choose a camp name. Or, if your kids all have different ideas, you could create two or three parties of rival campers, each with a different flag.
12. Play Flashlight Tag
Kids love to play hide and seek … but have you ever tried hide and seek in the dark? If your kids are old enough, it's a great backyard camping experience. If you're worried about them getting scared or struggling to find the people who are hiding, equip everyone with glow stick bracelets.
13. Tell Ghost Stories Around the Campfire
This might be a bit scary for little kids, but if your kids are older, take it in turns to tell ghost stories around the campfire for a classic backyard camping experience. If you're not big on ghost stories, how about a campfire sing-song instead?
14. Have a Midnight Feast
BBQ and s'mores not quite filled you up? Have a "midnight" feast (don't worry, we won't tell the kids if it's really only nine o'clock). You might want to make hot chocolate, popcorn, or even a whole midnight feast box. – Just be careful to not overdo it too late at night!3
If you're stuck for inspiration for your backyard camping night, give one (or more!) of these ideas a whirl – your kids are sure to love it. Favorites can then become family traditions for next time.
Article Sources
Adventure Daily uses only high-quality sources, including peer-reviewed studies, to support the facts within our articles. Read our editorial process to learn more about how we fact-check and keep our content accurate, reliable, and trustworthy.
Daly, Kerry. Deconstructing Family Time: From Ideology to Lived Experience. NCFR. 2001; 63(2), pp 283-294. doi: 10.1111/j.1741-3737.2001.00283.x
L. Lan, K. Tsuzuki, Y.F. Liu, Z.W. Lian, Thermal environment and sleep quality: A review. Energy and Buildings, 2017; 149, pp 101-113, doi: 10.1016/j.enbuild.2017.05.043
Ahmed S, Jamil S, Shaikh H, Abbasi M. Effects of Life style factors on the symptoms of gastro esophageal reflux disease: A cross sectional study in a Pakistani population. Pak J Med Sci. 2020;36(2):115-120. doi:10.12669/pjms.36.2.1371.