If you've ever struggled to stay clean while camping, you know that the first shower you take upon returning home is nothing short of pure bliss. Washing the dirt and grime off of you, even if it's only accumulated from a single day in the woods, is a heavenly feeling.
For short overnight camping trips, oftentimes people just skip showering at all, but if you're going to be out for more than a night, it's critical to have some method of keeping yourself clean on hand, particularly if you're not camping alone. No one else should have to smell all that funk!
That doesn't mean you have to bring a 40-pound shower apparatus with you, however. There are plenty of ways to stay clean and refreshed when you're camping without bringing the entire kitchen sink along with you!
Use a Camping Shower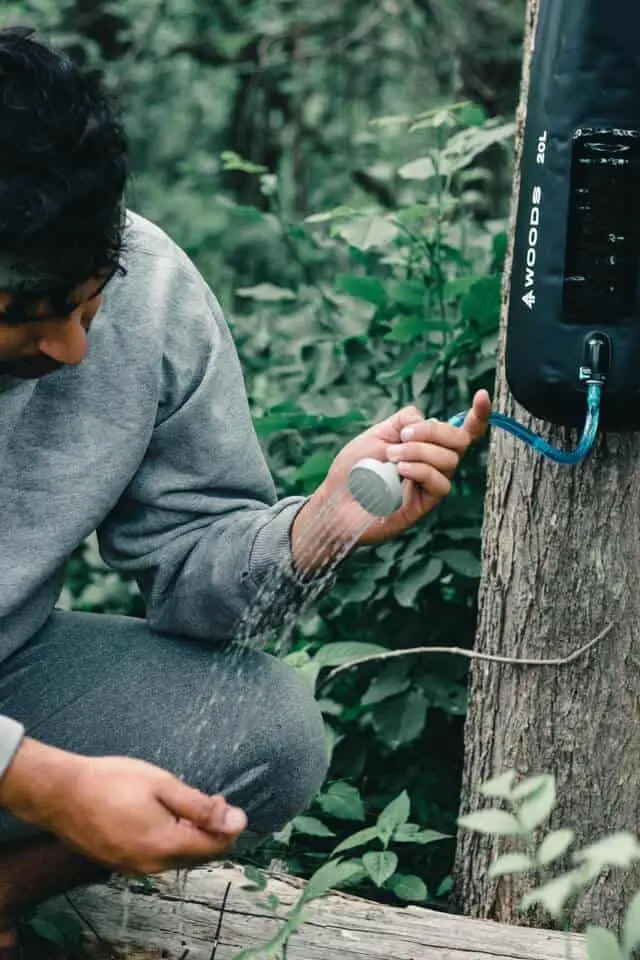 Image courtesy of Unsplash
There's no doubt about it, camping showers are the single most effective way to stay clean while camping.1 A camping shower can come in a variety of forms, from simple gravity-powered hang bags to air-pressurized showers with luxury nozzles to car-mounted showers to full-on pop-up showering cubicles.
The point is that camping showers give you an affordable, portable, and packable way to stay clean while in the wilderness.
The best camping showers can (perhaps surprisingly) give an experience quite similar to traditional showers, with fast-warming water reservoirs and high-powered nozzles. Foot pumps allow you to create high-pressure, so the spray is strong enough to rinse off gear, dishes, and clothes in addition to grimy bodies.
As mentioned above, many luxury camping showers come with (or can be paired with) pop-up, tent-style shelters to create showering cubicles for the maximum privacy experience. Whether you're camping out of a car or you're fifty miles deep in the backcountry, there is a portable camping shower on the market to suit your needs.
Bring Wet Wipes
Wet wipes are a camper's best friend for shorter trips. If you bring a baggie of moisturizing wipes with you, you can give yourself a no-rinse bath simply by rubbing the wipes all over your body, all without any running water required.
This is my go-to method of choice for showering in the wilderness because it also doesn't waste any water, making wet wipes both an eco-friendly cleaning method (if you find biodegradable wipes) and one that helps conserve your water supply.
Not only are wet wipes good for cleaning yourself off, but they also come in handy if you need to clean any technical gear you may have, sanitize dishes, scrub dirt and grime off of a tent floor, and more.2
Go for a Swim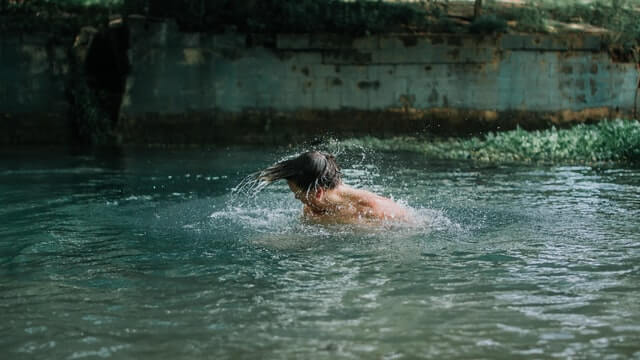 Image courtesy of Unsplash
This one might seem obvious, but a simple dip in a stream or lake can make a world of difference in keeping you clean, even if you don't have any soap on hand (although I always recommend bringing a small bottle of castile soap with you any time you head into the wilderness).
Fully submerge yourself, then use your pack towel or some other rag to scrub your body down. When camping, almost every time I go to pump water, if possible, I take a little bath while doing so.
Keep Your Clothes Clean
Dirty clothes = dirty bodies. It's that simple. You could be taking showers with the world's best camping shower three times a day while you're out camping, and if you're slipping back into crusty and musty clothes afterward, all those showers won't do you much good.
Keeping your clothes as clean as possible, even if that just means rinsing them with running water and a bit of hand soap every few days, is of paramount importance if you're trying to stay clean while camping.
However, this doesn't mean you have to pack a ton of clothes. I often only bring a couple of shirts and one pair of pants + shorts when I'm camping, but just make sure you're cycling them out every other day or so and washing others in the meantime, if possible.
This is of particular importance where socks are concerned. You want to keep your socks as clean and dry as possible to prevent foot infections and to make hiking more comfortable. On that note, socks are the one item of clothing that it never hurts to overpack.3
Conclusion
How you want to stay clean when camping is up to you, but the bottom line is… you should. Even if you can't smell yourself, everyone around you can. Besides, there are dozens of ways to stay clean while camping. Camping showers are our top pick, but a simple pack of wet wipes or a bottle of soap and a rag can go a long way on backcountry missions where you want to stay as light and mobile as possible.
Oh and remember, keep your clothes clean, too! There's no point washing your body if you aren't going to wash your clothes along with it.
Article Sources
Adventure Daily uses only high-quality sources, including peer-reviewed studies, to support the facts within our articles. Read our editorial process to learn more about how we fact-check and keep our content accurate, reliable, and trustworthy.
How to Maintain Personal Hygiene While Camping, for Everyone's Sake. NationalParkService. Published 17 Mar 2017. Accessed 9 Nov 2021.
Aschenbeck KA, Warshaw EM. Allergenic Ingredients in Personal Hygiene Wet Wipes. Dermatitis. 2017;28(5):317-322. doi:10.1097/DER.0000000000000275
Gupta AK, Versteeg SG. The Role of Shoe and Sock Sanitization in the Management of Superficial Fungal Infections of the Feet. J Am Podiatr Med Assoc. 2019;109(2):141-149. doi:10.7547/17-043