When you're going car camping, you've got quite a bit of flexibility about what you take with you. Since you won't be carrying anything a long distance, you can pack for a more luxurious camping experience than you'd likely have if you were hiking or primitive camping.
It can be difficult to narrow down exactly what to pack, though. What will be useful during your trip … and what will end up being wasted space?
Here are thirteen must-have essentials that you should make sure you include on your packing list.
What Exactly Is Car Camping?
Car camping doesn't mean sleeping in your car (or buying an RV). Instead, car camping is when you pack up your car, drive to your campground, then park near or at your campsite.
This is a great type of camping to get started with, as you can take bulkier and heavier equipment (which tends to be cheaper) than would be practical when hiking.
13 Must-Have Essentials to Pack for Car Camping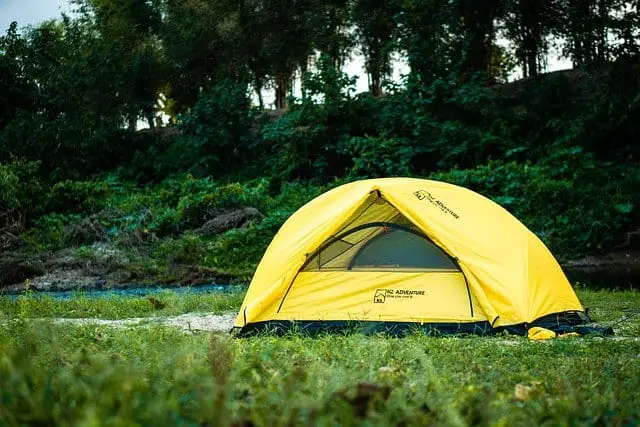 Image courtesy of Pixabay
Here's what you should be sure to pack – and what to look for when choosing these items.
1. A Tent or Tents
Unless you plan to sleep under the stars in a hammock, you'll need a tent. If you're traveling with older kids, you might want two tents: one for you and your partner and one for your kids.
If you'll all be sharing a single tent, go for a big one – since you'll be traveling by car, the size and weight doesn't matter much.
2. Sleeping Pads, Mats, or Mattresses
Your tent won't provide much protection from the ground beneath you. You'll want a sleeping pad, camping cot, or mat (or even an air mattress for ultimate comfort) to cushion you and prevent you from getting too cold at night. It's crucial to keep in mind for your car camping is that you should still try to create a healthy sleeping environment.1
There are plenty of different sleeping pads and mats available, depending on what you prefer. If you're camping with your partner, you might want to go for a double sleeping pad. Just be aware that if you're family camping the air mattress is a big no-no for infants.2
3. Sleeping Bags
You'll need enough sleeping bags for everyone camping. You might want to each have your own sleeping bag, or you could opt for double sleeping bags if you want to share with your partner and/or kids.
Most sleeping bags are suitable for use in spring, summer, and fall. If you're going camping in winter, you'll want something that's rated for winter or all-season use.
4. Pillows
Some sleeping bags come with integral pillows, but these don't tend to be super comfy. For the best possible chance of a great night's sleep, take everyone's favorite pillows from home. (As long as that pillow actually gives you a good night's sleep home, too.)3
5. A Camping Grill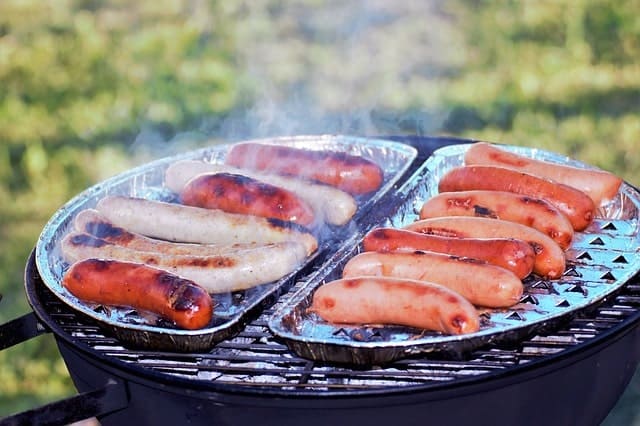 Image courtesy of Pixabay
One of the great things about car camping is that you can cook some fantastic meals. This starts with a camping grill: perfect for burgers, steaks, veggies, or pretty much anything else you'd like to cook.
You can get propane camping grills (where you attach a bottle of propane and cook on gas) or charcoal grills (which tend to be cheaper but do require cleaning after use).
6. A Cooler (and Food)
You'll want a cooler for keeping meat (and maybe beers!) suitably chilled before use. You want to make sure you're still keeping your foods at a safe temperature before preparing, even if your kitchen is a minimalist one.4
One handy tip is to pack your cooler with bottles of frozen drinking water, instead of with loose ice. That way, things won't get wet inside the cooler – and you can even use the water for drinking as it melts.
7. Food Prep Tools
It's easier to forget the smaller items when you're camping, so make sure you list the food prep tools you'll need (and pack them). Keep your raw meats separate to prevent any kind of contamination.5 Here's a good list to get you started:
Pots and pans
Chopping board
Sharp knife or knives
Cutlery (knives, forks, and spoons)
Plates and bowls (non-breakable)
Tongs and/or a spatula for cooking
Skewers (for toasting marshmallows)
8. Camp Chairs
Some campgrounds have picnic tables, but if you want to be able to sit outside your tent watching the sun go down or enjoying a campfire, you'll want some camp chairs.
Ideally, take one per person (to avoid arguments!) and consider a camping love seat if you want to cuddle up to your partner.
9. Lanterns, Flashlights, and/or Headlamps
Campgrounds tend to be dark at night, so it's a good idea to make sure that everyone has a flashlight or headlamp for those late-night bathroom trips.
A camping lantern is a great addition, too: you can hang this from the roof of your tent to provide light. This is really useful when getting ready for bed or during the night.
10. Microfiber Towels
Regular towels are bulky and don't dry very fast, which can be a nuisance when you're camping. Instead, consider buying some microfiber towels. These towels are light and highly absorbent – but they also dry quickly.
11. Warm Layers of Clothing
Even if you're camping during the summer, it could get quite cold once the sun goes down. Make sure you pack plenty of warm layers of clothing: that way, you can easily add or remove layers to suit you. If it's likely to rain, have spare layers to allow for some getting wet.
12. Portable Charger
If your campsite doesn't have an electric hook-up, make sure you take a (fully charged!) portable charger. Even if you don't plan to use your phone much during the trip, it's a good idea to have the charger in case of emergencies.
13. First Aid Kit
While many campgrounds will have a first aid point, it's a good idea to pack your own first aid kit too. You can take this out on hikes and day trips in case anyone gets injured or ill. As well as including things like bandages and antiseptic wipes to deal with cuts, you'll want to include common medications like aspirin and ibuprofen. This is an especially important item if you're camping in any kind of extreme condition.6
Car camping can be a whole lot of fun – even if you're brand new to camping. Make your packing list ahead of time and think through what you'll need, then you'll be well-prepared to make the most of your trip.
Article Sources
Adventure Daily uses only high-quality sources, including peer-reviewed studies, to support the facts within our articles. Read our editorial process to learn more about how we fact-check and keep our content accurate, reliable, and trustworthy.