More and more Americans are adopting outdoor hobbies and lifestyles, both for fitness and leisure purposes.1 Sports like hiking, rock climbing, mountain biking, and kayaking are all seeing massive booms in participation, and the outdoor gear and apparel industries are all on the rise.2 Perhaps the most accessible outdoor activity, however, is camping.
Whether in tents, hammocks, or RVs, camping is an excellent way to spend time in nature and offers a superb weekend getaway. 'Primitive camping' is the most common and basic form of camping, and it's the most accessible for novice campers. So let's break it down.
What Exactly Is Primitive Camping?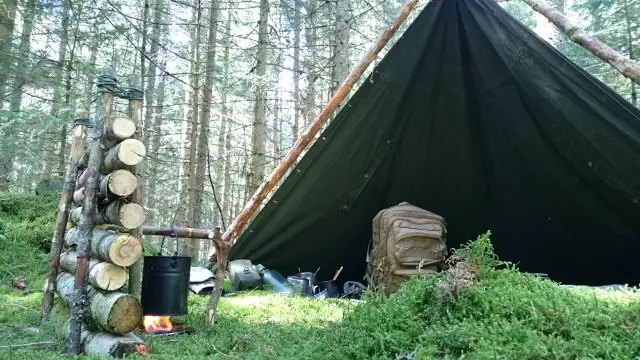 There are a variety of ways to camp, from RVs to tents. In general, primitive camping means camping in sites without basic amenities like electricity, water, or bathrooms. If you were to pitch a tent in a random field or deep in a forest, that'd be primitive camping. Some established primitive campsites offer a fire ring, and perhaps a series of logs or rocks to serve as stools or a table, but all told there are no "man-made" objects in a primitive campsite.
Primitive camping doesn't necessarily mean camping deep in remote backcountry regions, however. Many state and national parks, for example, offer "primitive" campsites in addition to more established sites with water and electrical hookups for RVs and campervans. A primitive campsite can be within walking distance of a parking lot, or it can be 100 miles away from the nearest road. Primitive simply means that the campsite is without amenities.
What You Need
Primitive camping is the most basic form of camping, so you'll just need a few things.
Food
This can be everything from dehydrated backpacking food to 10-ounce ribeye steaks. It all depends on your situation, how far the hike to your campsite is, how long you're staying, and of course, how much weight you're willing to carry.
Water
Be sure to bring enough water to hold out. In general, two liters of water per person, per day is a good rule of thumb. Along with water, a water filter pump or another method of water purification is an excellent idea, particularly if you're staying out for longer than a couple of nights, and especially if you're packing in (as opposed to camping near your car).
Shelter
Primitive camping can mean sleeping on the ground or in a 5-star luxury tent. Whichever suits your fancy! Hammocks are another option that is growing in popularity among American campers. For those that want to stay clean on extended trips, outdoor showers like these are a stellar option. Outdoor shower tents offer you the ability to shower while maintaining your privacy outside.
First Aid Kit
Make sure you bring a basic first aid kit whenever you head on a camping trip.3 Accidents happen.
Reservation
Many public lands, such as BLM property, allow free camping for up to 14 days without reservation, but in state and national parks you'll generally need at least a free reservation. Sometimes primitive camping sites in high-traffic areas can be quite expensive or hard to come by, especially in spots like the Whitney Portal. Access passes from the National Park Service are a great idea if you plan to do a lot of camping or hiking on federal land.4
The Pros and Cons of Primitive Camping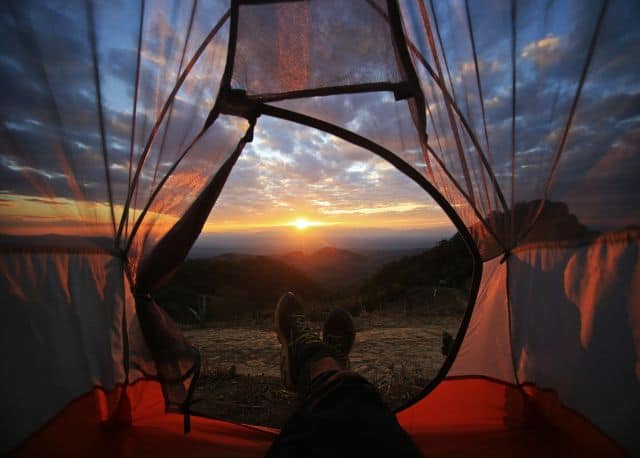 Pros:
While primitive camping might seem like a more difficult alternative to RV camping and other forms of more luxurious camping, in reality, it can offer a lot more freedom. If you become accustomed to primitive camping tactics, you can camp almost anywhere in the country (so long as you check with the land manager and secure a reservation or otherwise follow the legal restrictions), and there's no need for road access.
It's also much cheaper than cabin rentals or RV camping, and the mobility of camping without an RV or other trailer allows you to explore more areas than you would ever be able to otherwise. Primitive camping is an excellent gateway into a host of other wilderness activities, from climbing to kayaking and more.
Cons:
Naturally, when you're camping in primitive fashion you won't have access to the luxuries of a cozy bed, WiFi, or a toilet, among other things. There won't be a sink to wash your dishes or an outlet to charge your phone. In short, there will be less comfort overall. Make sure you're ready for this but also realize that in a lot of ways, a little less comfort can make the experience all the more impactful and invigorating!
Where to Go Primitive Camping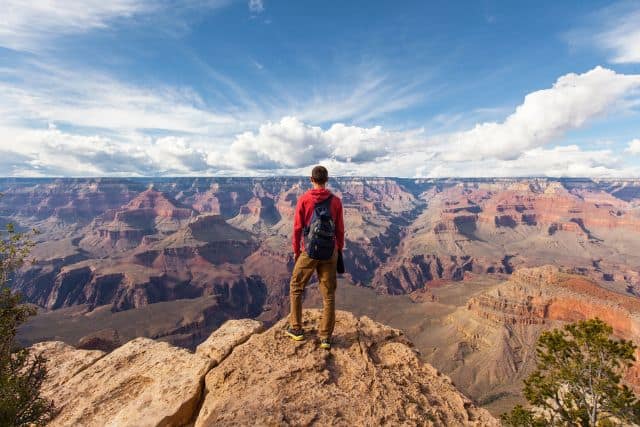 With over 6,600 state parks and over 420 national parks across our nation, not to mention a host of other wilderness areas and wide swathes of Bureau of Land Management (BLM) land, whether you live in Seattle, New York, Miami, LA, or somewhere in between, chances are there's an excellent place to go camping within an hour or two of your house, at most.5
Primitive camping sites are fairly easy to find online, and arguably the vast majority of all campgrounds in America offer primitive camping first and foremost, by a large margin. Mainstay sites like Grand Canyon National Park, Zion National Park, Yosemite National Park, and others are always excellent choices, but for your first getaway, find a smaller state park near you, or head to open-source sites like FreeCampsites.net to find the best spot to pitch a tent for FREE near you. TheDyrt.com is another great choice.
Is It For You?
So you're wondering if primitive camping is for you?
Of course, no one can decide that but you, but the short answer is…
Yes!
Primitive camping is an excellent way to connect with nature, spend time with friends and family, and unplug from technology. Just because it's "primitive" doesn't mean you can't use accessories to make it more comfortable. Luxury tents and expensive coolers with steaks and seafood and wine are all still compatible with primitive camping.
Besides, the more you start camping primitive-style, the more you might realize how much you really like roughing it!
Article Sources
Adventure Daily uses only high-quality sources, including peer-reviewed studies, to support the facts within our articles. Read our editorial process to learn more about how we fact-check and keep our content accurate, reliable, and trustworthy.