Are you thinking of going glamping for the first time and looking for some glamping tips?
If you're used to hotels, you might be feeling excited but also a little apprehensive. Maybe you're not too sure what to expect as a first-time glamper and you don't know what you'll need to pack.
In this article, we'll be taking a look at what you need to know and what to take with you.
What Exactly is Glamping?
Glamping means "glamorous camping" and it's a great way to get all the fun of camping without the drawbacks.
The biggest difference between glamping and camping is that you won't need to bring a tent for glamping. Typically, glamping accommodation is a wooden pod – though there are lots of variations on this, like luxury bell tents, shepherds' huts, or even more unusual options like hobbit holes and treehouses.
Your glamping accommodation will include some kind of bed or sleeping surface, so you won't be sleeping on the floor. Almost all glamping accommodation will have an electricity supply – and you may even have running water. Some glamping comes with an en suite bathroom, though toilets and showers will normally be located separately.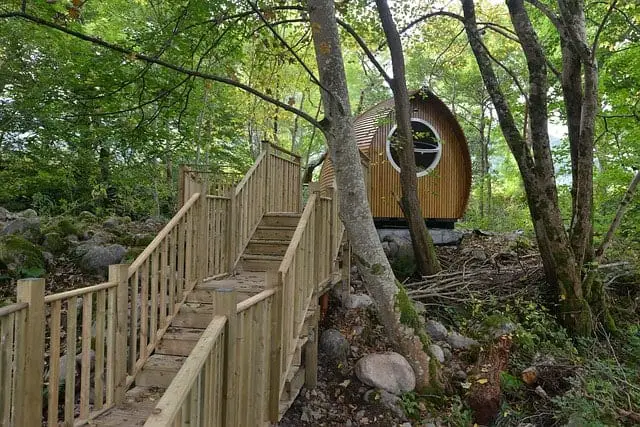 Image courtesy of Pixabay
What to Look For When Planning Your First Glamping Trip
If this is your first glamping trip, you might be unsure what to prioritize. It's a good idea to:
Tip 1: Figure Out Your Budget
Some luxury glamping accommodation is surprisingly expensive – so be realistic about what you can afford.
Tip 2: Plan a Short Trip
Two or three nights is about right if this is your first time glamping. If you and your family love it, you can easily do a longer trip next time.
Tip 3: List Essential or Desirable Glamping Features
Decide what features you want from your glamping accommodation. Perhaps there are some essentials (such as enough space for your family) and some nice-to-haves (such as a private bathroom).
Tip 4: Pick a Great Location
There are glamping sites all over the world. You'll probably want to stay close to home for your first trip, but think through whether you want to be in a forest, near the beach, or near to specific attractions for day trips.
Image courtesy of Pixabay
What You Should Bring on Your First Glamping Trip
Tip 5: Pack Comfortable, Warm Bedding
Glamping accommodation can get chilly at night, even in the warmer months. Bring cozy bedding with you. You may want to stick to a sleeping bag like you would in a tent – but you could bring blankets and duvets if you prefer. Having several different layers is helpful if the temperature is likely to vary a lot.1
Tip 6: Bring A Cooler (Even if You'll Have a Fridge)
Most glamping accommodation comes with a small fridge – but you won't fit all that much in there and keeping your food cool is definitely not something you want to mess up.2 If you're going glamping in the summer, or if you're just planning to get through plenty of chilled beers, then a cooler is a great extra to have.
Tip 7: Pack a Flashlight for Each Glamper
Bring flashlights for everyone, especially if you may need to make late-night trips to the bathroom. Your glamping site is likely to be very dark at night – and you don't want to stumble back to the wrong glamping pod by mistake.
Tip 8: Bring Cooking and Cleaning Gear
Some glamping accommodation includes a simple stove plus pots and pans. If not, you'll want to bring your own gear, just as you would when camping. BDo your homework and see which method of cooking will work best for you. 3 Don't forget cleaning supplies, like dish soap, trash bags, and so on.
Tip 9: Think About Food and Drink Ahead of Time
Unless you're planning to eat out a lot or buy supplies on-site, you'll want to bring some food and drink with you. Glamping accommodation tends to be quite compact, so keep that in mind when deciding how much to pack.
Tip 10: Pack Suitable Outdoor Clothing
Make sure you have plenty of warm and waterproof clothing to cope with the weather. You're not going to want to stay cooped up in your glamping pod for much of the time, as it's likely to be on the snug side.
Tip 11: Consider Bringing Outdoor Chairs
Unless your glamping accommodation comes with outdoor furniture, bring some with you. Folding chairs (and even a folding table) can make for a nice seating and eating area, so you don't all need to squash into your glamping pod to sit down. If space is limited, bring a picnic rug or two instead.
Tip 12: Bring Little Extras That Make a Big Difference
Depending on what you like to drink, you may want to pack a French press, portable coffee maker, corkscrew, or bottle opener. Being without these could be inconvenient. If you're glamping with kids, some easily portable games or toys can help keep them amused if you're stuck in your pod due to the rain. (Avoid toys with tiny pieces, though: you do NOT want to have Legos all over your glamping pod floor.)
Glamping can be a huge amount of fun. If you've been thinking about giving it a try, then why not book a trip today? Just follow the tips above and you'll be sure to have a great glamping experience.
Article Sources
Adventure Daily uses only high-quality sources, including peer-reviewed studies, to support the facts within our articles. Read our editorial process to learn more about how we fact-check and keep our content accurate, reliable, and trustworthy.
Troynikov O, Watson CG, Nawaz N. Sleep environments and sleep physiology: A review. J Therm Biol. 2018;78:192-203. doi:10.1016/j.jtherbio.2018.09.012
Mataragas M, Drosinos EH, Siana P, Skandamis P, Metaxopoulos I. Determination of the growth limits and kinetic behavior of Listeria monocytogenes in a sliced cooked cured meat product: validation of the predictive growth model under constant and dynamic temperature storage conditions. J Food Prot. 2006;69(6):1312-1321. doi:10.4315/0362-028x-69.6.1312
Richards AM, Shakespeare PG, Rossi A. Portable camping stoves continue to cause burns. BMJ. 1999;318(7183):604. doi:10.1136/bmj.318.7183.604